Happy Campers And Paper Plates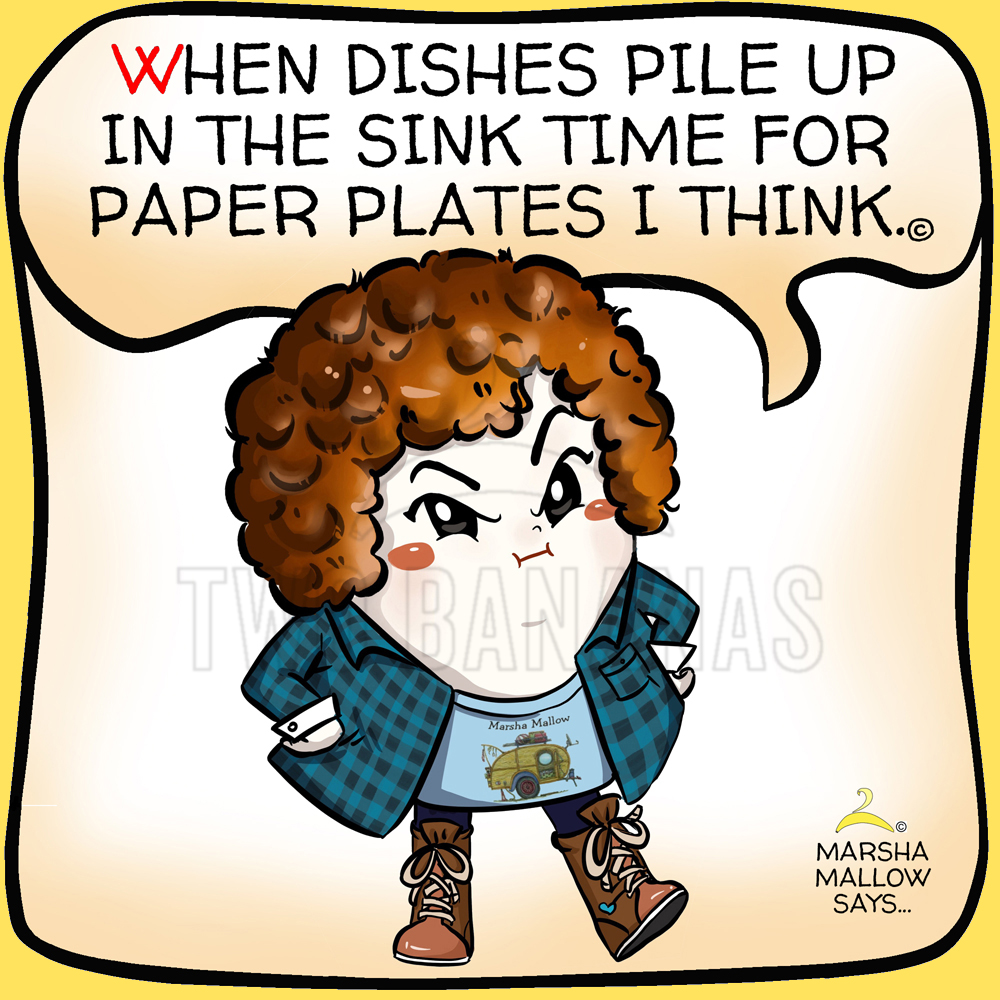 Dis The Dishes.
Like mosquitoes, dirty dishes seem to follow campers everywhere. Choosing between enjoying nature and washing dishes, paper plates are an attractive option.
On The Light Side
My intention will be to dwell on the light side of camping life. Every Tuesday and Thursday a Marshall or Marsha Mallow webtoon will be published sharing their down to earth words of wisdom, gripes and funny observations. I have no fact checkers, therefore, if some of the news and stories are false, at least they will be humorous.
A Web Camp Site
This web camp site has no mosquitoes or spiders, the fires burn without smoke and the restrooms are always clean. I invite you and all your camper friends to stop by anytime… just for the fun of it.

High Tech Auto… A Laughing Matter
My wife loves her automobile. It is one of those machines created more by computer nerds than automotive engineers. Any car that requires reading a half inch thick manual to operate is not a friend of mine.
Antique User
Ok, I remember 20 cent a gallon gas. I never have had a problem sticking a key in the ignition to start the engine, but battery requiring fobs and key-less starting is a high tech solution to a problem I never needed solving. Rarely used, I carried the fob to her car on my key chain, just in case.
Open Trunk Lid
My wife parks her car about 10 feet from the window where I work. Glancing out the window I began sporadically seeing its trunk lid open. So I would stop, run outside and close it. After half dozen occurrences, I realized the fob has a button to open the truck lid. I stood up from my desk, took the key chain from my pocket and pressed the trunk button. Eureka… it opened!
Mystery Solved
I was "butt" pressing the fob in my pocket. No longer do I carry the fob, its new home is on a peg in the kitchen, far away from the maddening Mercedes, retrieved only when my need arises drive her car.
Richard Neuman
#camping⛺ #happycampers #newslettercontent #camperlife #webtoon #camperhumor #campsigns #cartoony #funnyquotesdaily #freecartoon #camperclub #camperorganization #makelaughquotes #paperplates