Whimsical Vintage Camper Personalized Gifts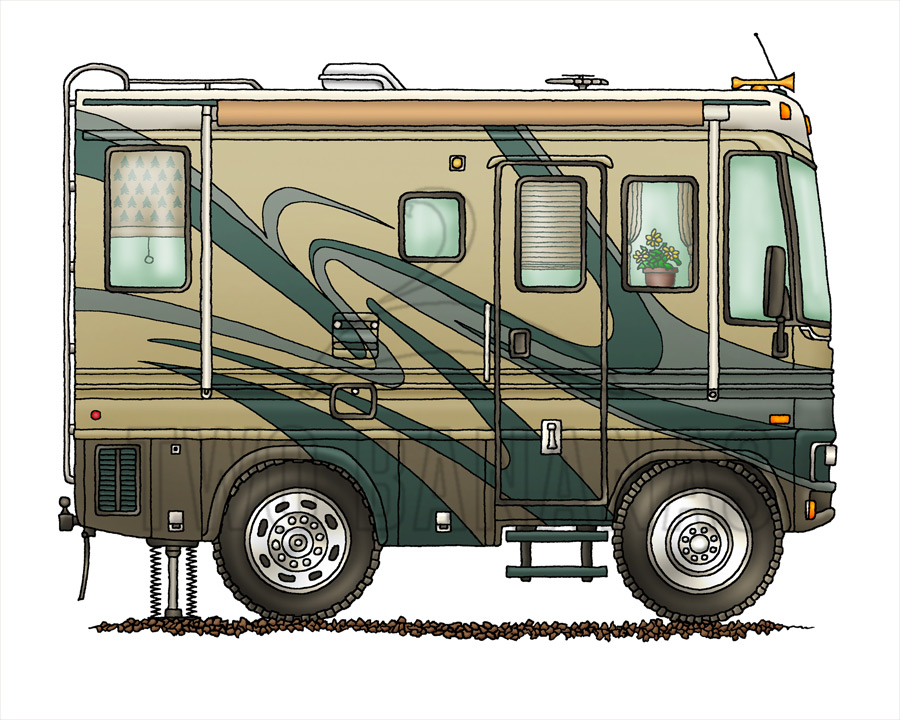 Image #492 Class A Motorhome Camper
A Personalized Pillow With This Camper On It Will Look Fantastic In Your Motorhome!
See In Our ZAZZLE Store
Or Choose A Selection Of Temporary Tattoos For The Kids.
See In Our ETSY Store
Nine Happy Camper Collections
To view a specific style of camper click on the collections icon below.
This Is Not Your Father's Greyhound
Class A motorhomes get your attention. In the first place, they are huge, they cast a very big shadow on the road and anywhere they are parked. In addition, Class A motorhomes can be beautiful, the finest of designs and technology companies currently can produce. Furthermore, RV motorhomes are statements of success, the owners are winners, they enjoy a good life.
A Castle On Wheels
Thereupon settling in to a camping spot, class A motorhome campers spread out. In addition to multiple slide outs, under awnings as big as circus tents there is always an assortment of outdoor furniture. Furthermore, there might even be a little fenced in area by the RV for the family pet. Not only is the interior plush and spacious, but it also contains all the comforts of modern life. Of course, there are those who say this is not camping but just living on wheels in a campground. Nevertheless, if you have the means, by all means why not enjoy some of the finer things in life.
Two Parents And A Motorhome
In many ways, Class A motorhomes serve practical purposes. For instance, they allow people to downsize from large permanent houses to living in a smaller space that is mobile. Thus allowing visits to family, friends and places never before seen. One couple made annual holiday RV trips visiting children on the opposite side of the country hauling gifts and cases of wine not available where they were visiting. Not to mention, the huge cargo space under the motorhome allowed them to bring items left behind when the children moved.

As Good As It Gets
Class A motorhomes are the covered wagons of today. They transport the adventurous, the explorers and life long learners. Consequently when circumstances limit travels, motorhome lovers can often be found living exclusively in their RV. For them it is as good as it gets.