Chinese Lantern Impressionist Art
You Are Here
Home → Chinese Lanterns
The focus of this page is Chinese lantern impressionist art.
Set includes 6 millennials DIY downloads.




Paintings Parents Probably Won't Like, But You Will Love.
Chinese Lantern Impressionist Art For Millennials. Download Includes 6 Paintings For DIY Projects

SIMILAR TO MONET & VAN GOGH IMPRESSIONISM
Now is the time to join the many others already including Richard Neuman's Chinese lantern impressionist art in their living and working environments. You see, I combine my photos with layers of creative interpretation of color, line and texture. As a result, many unique, amazing digital paintings like you probably have never seen before.
MORE THAN JUST LANTERNS FROM CHINA
Since paper lanterns can also be referred to as Japanese lanterns, Taiwanese lanterns and Vietnamese lanterns this set offers a variety of lanterns from several locations: Xian, China; Hoi'an, Vietnam; Kyoto and Osaka, Japan.
HOW CAN YOU NOT LIKE CHINESE LANTERNS?
Bright colors in daylight and soft warm hues at night make Japanese lanterns a favorite of just about everyone. They are seen in shop windows, outdoor signage, line temple rooms, hang from restaurant ceilings and cast a special light along narrow streets throughout Asia. They can make a space romantic, mellow, happy or full of energy and life. It seems to me only a Grinch would not like Chinese lantern impressionist art!
ANCIENT CITY OF VIETNAMESE LANTERNS
About half way between Hanoi in northern Vietnam and Ho Chi Ming City in the south one can visit the Ancient City of Hoi'an. Perhaps the most beautiful town in all of Vietnam. It is filled with countless lanterns of every shape, size color and designs imaginable. Everywhere along its narrow (pedestrian and bicycle only) streets of mostly ocher buildings Vietnamese lanterns are displayed. A river runs through it and small colorful boats each with a few visitors glide slowly along the parks and waterfront streets all decorated with Chinese lanterns. At night the scene takes on a dreamlike atmosphere as thousands of paper lanterns glow like small stars and passengers in the small boats light tiny floating lanterns on the river. An unforgettable visual experience!
JAPANESE LANTERNS GLOW IN KYOTO
The area around Shijo Avenue in the Gion area of Kyoto is not only famous for its geisha's but for the streets lined with lanterns. While mostly round and red they are actually signs for many shops, tea houses and restaurants. It is a special place in the evenings as one is assured of seeing many soft glowing Chinese lanterns and perhaps one of the 200 or so remaining geishas.
Richard Neuman, artist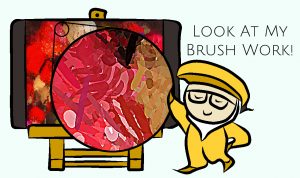 SAVE MONEY
Perfect for today's tight budgets. Richard Neuman's millennial impressionist paintings are affordable DIY downloads for modern home and office decor. $0.00 shipping cost!
SAVE TIME
You never wait for your digital downloads to arrive in snail mail.
SAVE THE PLANET
No prints or frames will be shipped to you eliminating the need for wasteful packaging materials.
BE EFFICIENT
Do it yourself and create exactly what you need. Print on canvas, photo and archival watercolor paper, metal, wood, cloth, stickers and more.
BE CREATIVE
Display in ready made, custom and digital picture frames,
wrapped canvas, mounted on boards, as screen savers on note cards, magnets, coffee mugs and so much more.
ENJOY THE EXPERIENCE
Be the first to introduce friends to the beauty and practically of my computer art which is based on digital photography, painted on a computer, marketed on the internet and delivered by downloading.
PRINT ANYWHERE
Keep Files
Use your home or office printer.
Take Files To
A local print shop like Target, Costco, Walmart or Staples.
Upload Files To
An online print shop like shutterfly.com or canvasdiscount.com
HOW WILL IT LOOK IN YOUR HOME
Absolutely fantastic! Perfect for modern decors. Sophisticated wall art for your home, condo, apartment, office, vacation home and yacht.
(You do have a yacht… right?)
STRAY AWAY A BIT FROM TRADITION
First of all, if you look at your world differently from your parents, why not express those tastes with modern paintings created in the traditional well loved impressionistic style.
USE FOR MORE THAN WALL ART
Consider displaying using a variety of digital means such as, digital frames, screen savers, slides, plus share on Facebook Art, Instagram Art and etc.
BE PROUD OF YOU ART
Friends and family will admire your tasteful choices and how downloads from Richard Neuman's millennial impressionist art galleries complement your home and office decor.
CURATED GROUPINGS
Each group of photo paintings have similar style, subject and color. Makes it easy for you to hang individually or in groups.
IMPRESSIVE GIFTS AT LITTLE COST
Creating gifts using downloaded digital files of Chinese lantern impressionist art is an inexpensive way of making thoughtful gifts for many occasions. Recipients often value them for much more than your purchase price.
FINAL THOUGHTS
LIKE A DIFFERENT SIZE?
Please send a message and I will let you know if I can make the change!
PAPER
If you print these at home, we recommend you use white card stock rather than regular paper.
NOT FOR COMMERCIAL USE
This file is for PERSONAL use only and may NOT be transferred or sold in any way. If you would like to reproduce a painting for commercial purposes, you must contact me to discuss details.
COPYRIGHTED
Each painting is individually copyrighted by Richard Neuman. All rights reserved.
THANK YOU FOR VISITING
Richard Neuman's Chinese lantern impressionist art downloads for DIY home, office decor and gifts.