You Are Here
Home → About Us
Old And Wu
About US Two Bananas Abstract Art Downloads For Home Office Decor


YES ~ WE HAVE TWO BANANAS
Two Bananas Art was formed as an internet business in 2012. It is a blend of gifts from two talented individuals representing a blend of cultures, talents, skills, energies and enthusiasm. Pei-Hsuan Wu (pay shown woo) manages the internet business, creates new products and fulfills orders. Richard Neuman devotes his time and energy creating art.
WHY THE WEIRD NAME!! "TWO BANANAS ART"
Our fun name comes from an endearing term representing the combining of two cultures. Asians claim they have yellow skin, but if they are born and raised in the United States assimilating the Western culture, the native born Asian will joke that they are white inside. What is yellow on the outside, white on the inside? You're right ~ A BANANA!!
Richard and Pei-Hsuan are the Two Bananas! They form an unlikely business partnership if in no other way than their Richard is in his mid70's, Pei-Hsuan is in her early 30's. Together they create art, and market world-wide. Living in the USA for three years, Pei-Hsuan become a blend of East and West. Annual travel abroad and involvement with Asian students, has resulted in Richard acquiring many Far Eastern friends and a deep appreciation for Asian cultures.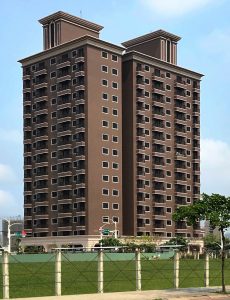 Pei-Hsuan's studio in Taoyaun, Taiwan is on the 10th floor.
A NEW SHOP WITH 25 YEARS OF SALES HISTORY
Armed with her new MBA, Pei-Hsuan's keen marketing sense and internet savvy belies the fact that she is relatively new to business. Richard and his wife Faith, on the other hand, have over 20 years of selling his artwork in some of the largest retail and wholesale gift shows in America. Clients have ranged from Disney, Cracker Barrel, Hallmark to thousands of individuals from every state and from many foreign countries.
Scroll to learn even more about us Two Bananas abstract art downloads for home office decor.
PEI-HSUAN WU THE YOUNGEST BANANA
An Offer I Could Not Refuse
Richard and Faith had owned their company for over 25 years selling Richard's artwork. They asked me if I would be interested in helping them market his artwork internationally. It was an offer I could not refuse! Then the offer got better. They wondered if I'd consider living with them during the internship since the studio/office was within walking distance from their house. I was overwhelmed with their kindness!
The Internship Year
During this time, Richard devoted time and attention to my training in the realm of business planning and particularly in the area of marketing on the internet. We worked side-by-side and through this business opportunity I discovered my own creative artistic abilities. As the months passed and my departure from Ohio/America for Taiwan was approaching, Richard, Faith and I turned our thoughts to finding a way to continue our business relationship. The final six months of my internship was spent creating and helping 'Two Bananas Art' become a functioning internet site.
Back in Taiwan
I left the United States with sadness but also happiness in my heart. I expanded our new business first focusing on increasing exposure of Richard's artwork into the international marketplace. Next I assumed responsibility of maintaining our Zazzle and Etsy online shops, followed by making prints and other printed products, such as, stickrd, note cards and kids tattoos. I am also responsible in developing new products featuring Richard's art.
Back And Forth
The internet is used almost daily sharing orders, messages and graphic files. Each year Pei-Hsuan spends about two weeks at the Ohio studio and Richard travels to the Taiwan studio for a similar period of time.
RICHARD NEUMAN THE OLDEST BANANA
The Artist In Me Came At An Early Age
It was well before kindergarten when I began drawing the barn, fields and fences seen on my grandfather's farm. My first paying job as a teenager was painting scenery after class for a theatrical production company. I graduated with honors in Advertising Design from the University of Cincinnati and a Masters Degree in Art from Bowling Green State University. My career includes working in the world's largest advertising agency in New York City, as a design consultant for Goodyear, a senior graphics designer for Marathon Oil Company and running my own business for over 25 years.
My Wife Faith And I
In our early 40's we both left corporate careers to form a corporation called 'From Something Old Company." I created original drawings of rural scenes using Chinese brushes, inks and watercolors on hand-made rice paper. They sold well and sales grew rapidly when we expanded our product line to include my artwork on calendars, note cards and magnets. We hired 5 family members to help meet order fulfilment. Satisfied customers included Disney, Cracker Barrel, General Electric and Kampgrounds of America. Today, you can find my art in virtually every state and countless countries around the globe.
Embracing Computer Graphics From Its Inception
I bought my first Apple II computer in the early 70's. The manual for it was hand written! Our own company was computerized from its early 90's beginning. Early involvement in computer technology paid dividends more recently in the forms of Internet sales and digital photo painting.
My Studio
It is located only a few yards from the house that Faith and I built with our own hands in 1989. The house and studio are on land that has been in my family for over 140 years. We call our rural property Axis Mundi because it is indeed the center of our world.
Over The Last 10 Years
Following 20 years of selling at wholesale and retail shows, I have had time for additional creativity. With Stacey Gabel, a talented teacher/author, I illustrated a series of children books. "The New Blue Tractor", Time To Combine" and "The Bulldozers Dig A Pond'. Faith and I become active with international students at the University of Findlay and now enjoy having many friends from Japan, Taiwan, South Korea, China and Vietnam.
All Shook Up
Several years ago I developed a tremor in my right hand resulting in my inability to continue drawing with fine lines. Familiarity with digital art led me to experiment with many different combinations of equipment and software. Recent sophistication and improvements coupled with new digital cameras has allowed me to create semi-abstract photo paintings of the highest quality. Today my art is made available as inexpensive digital files allowing you the ultimate flexibility in usage.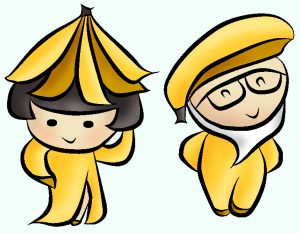 THANK YOU FOR VISITING
About Us Two Bananas Abstract Art Downloads For Home Office Decor