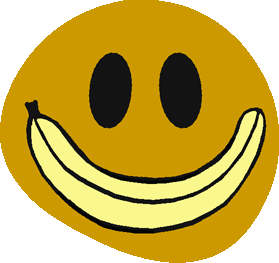 Intimate Views
Earth Toned Canyon River Abstract Art Downloads DIY Home Office Decor You're Guaranteed To Love

EUREKA!
You have discovered Two Bananas Art gallery "Canyon River Abstract Art In Earth Tones"! Artist Richard Neuman combines his photos with layers of creative interpretation of color, line and texture resulting in these unique, amazing digital paintings just for you!
.
RIVERS RUN THROUGH IT
Taroko National Park In Eastern Taiwan is a huge wild region whose mountains have been slowly sculptured by untamed rivers. Accompanied by a group of Taiwanese friends we hiked along one of the rivers. The path was situated high above the fast flowing water as the area has an unfortunate history of flash floods taking the lives of novice visitors prefering to adventure at water level.
SOUNDS OF WATER, BIRDS AND POLICE SIRENS
My immersion into sounds of nature was abruptly ended as the screeching of several sirens filled the canyon. Inquisitive heads all turned from where we had been seeing several police mounted on small motor bikes bouncing toward us. They quickly squeezed by us all only to stop out of view around the next bend.
A MOVING EXPERIENCE
As a megaphone blared warnings, police began scampering down the steep rocky bank to the river below where a group of young adults had set up several tents and were cooking. In no uncertain terms they were being loudly informed the unlawfulness of their actions. As we hiked around yet another corner my sight of authorities watching campers rapidly lugging tents and scattered gear up the rugged bank will never be forgotten.
SIGHTS FOR YOUR EYES
I have curated this collection of abstract photo paintings featuring this canyon river in natural earth tones. The base of each image is a dramatic photo I captured with the aid of a telephoto lens. The awesome beauty of waterfalls, rapids, chutes, fast moving water combined with spectacular rock formations and boulders are represented as never before. May you enjoy.
Richard Neuman, artist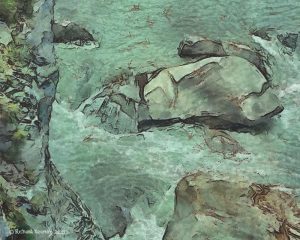 AFFORDABLE DIY
These canyon river abstract art downloads DIY home office decor
are perfect for today's tight budgets.
THESE ARE DIGITAL DOWNLOADS
Never wait for your items to arrive in the mail.
$0.00 SHIPPING COST
No prints or frames will be shipped to you.
PRINT EXACTLY WHAT YOU NEED
Print Sizes
You receive one JPEG file for these standard sizes:
5×7, 8×10 and 11×14 inch.
Print On
Canvas, photo and archival watercolor paper, metal, wood, cloth, stickers.
Display In
Ready made, custom and digital picture frames,
wrapped canvas, mounted on boards and as screen savers.
PRINT ANYWHERE
Keep Files
Use your home or office printer.
Take Files To
A local print shop like Target, Costco or Staples.
Upload Files To
An online print shop like Shutterfly.com or Gicleetoday.com.
HOW WILL IT LOOK IN YOUR HOME
Absolutely fantastic! Perfect for modern decors. Sophisticated wall art for your home, condo, apartment, office, vacation home and yacht.
(You do have a yacht… right?)
BE PROUD OF YOU ART
Friends and family will admire your tasteful choices and how they complement your décor. Canyon river abstract art downloads DIY home office decor are similar in style, subject and color. Easy to hang individually or in groups.
PERSONAL ENJOYMENT
Often are the times when a painting gains a special place in your heart. It becomes more than wall décor, and more like a silent companion in quiet moments of contemplation.
IMPRESSIVE GIFTS AT LITTLE COST
Creating gifts using digital files of my art prints is an inexpensive way of making thoughtful gifts for many occasions. Recipients often value them for much more than your purchase price.
THANK YOU FOR VISITING
Canyon river abstract art downloads DIY home office decor.