Intimate Views
Asian Arches Abstract Art Downloads For DIY Home Office Decor Mostly Red You're Guaranteed To Love

EUREKA!
You have discovered Two Bananas Art gallery "Asian Arches Abstract Art Mostly Red"! Artist Richard Neuman combines his photos with layers of creative interpretation of color, line and texture resulting in these unique, amazing digital paintings just for you.
.
LESS GRAY AND MORE COLOR
I find the discovery of so many architectural arches painted in bright colors visual delights on my travels throughout Asia. Certainly there are centuries old walls with gray stone arched gates, but also one is just as apt to discover a thousand year old structure still painted in bold reds, oranges and white. Structures almost nonexistent in some parts of the world.
THE GRACEFUL ARCH
Something there is about an arch that never ceases to draw my admiration. Perhaps it is the graceful cured lines in structures predominately made of strait vertical and horizontal shapes. On the other hand, it remains almost mystical such an element of grace is able to hold so much weight without collapsing.
FOCUS ON BOLD WARM COLOR
I have curated this collection of photo paintings featuring bold painted Asian arches. Architectural art that will bring warmth and excitement to your modern décor. Closeup observation of arches in walls, tombs, temples and gates revealing their awesome beauty. May you enjoy.
Richard Neuman, artist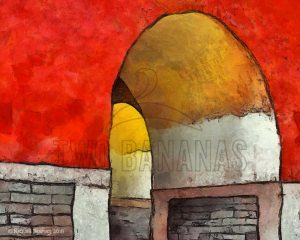 AFFORDABLE DIY
These Asian arches abstract art downloads DIY home office decor
are perfect for today's tight budgets.
THESE ARE DIGITAL DOWNLOADS
Never wait for your items to arrive in the mail.
$0.00 SHIPPING COST
No prints or frames will be shipped to you.
PRINT EXACTLY WHAT YOU NEED
Print Sizes
You receive one JPEG file for these standard sizes:
5×7, 8×10 and 11×14 inch.
Print On
Canvas, photo and archival watercolor paper, metal, wood, cloth, stickers.
Display In
Ready made, custom and digital picture frames,
wrapped canvas, mounted on boards and as screen savers.
PRINT ANYWHERE
Keep Files
Use your home or office printer.
Take Files To
A local print shop like Target, Costco or Staples.
Upload Files To
An online print shop like Shutterfly.com or Gicleetoday.com.
HOW WILL IT LOOK IN YOUR HOME
Absolutely fantastic! Perfect for modern decors. Sophisticated wall art for your home, condo, apartment, office, vacation home and yacht.
(You do have a yacht… right?)
BE PROUD OF YOU ART
Friends and family will admire your tasteful choices and how they complement your décor. Asian arches abstract art downloads DIY home office decor are similar in style, subject and color. Easy to hang individually or in groups.
PERSONAL ENJOYMENT
Often are the times when a painting gains a special place in your heart. It becomes more than wall décor, and more like a silent companion in quiet moments of contemplation.
IMPRESSIVE GIFTS AT LITTLE COST
Creating gifts using digital files of my art prints is an inexpensive way of making thoughtful gifts for many occasions. Recipients often value them for much more than your purchase price.
THANK YOU FOR VISITING
Asian arches architectural abstract art downloads mostly red DIY home office decor.