What Would Van Gogh Do?
Two Bananas Art 50 Year History Richard Neuman Art Styles Crayons To Computers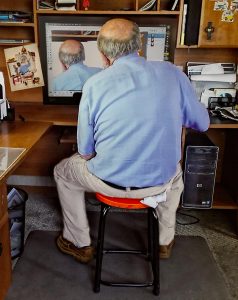 NEW AND EXCITING
Creative minds continually explore for and embrace new things.
Caveman used colored pigments to draw on cave walls, Leonardo da Vinci applied pigments to wet plaster in painting the Sistine Chapel ceiling while Vincent van Gogh applied tubes of oil paint to canvas with brushes and palette knives. While their creative styles differ, what they had in common was utilizing the art tools available in their day and age. Most likely, if alive today, each would be embracing modern technology and creating art digitally.
FIVE WAYS OF CREATING DIGITAL ART
Traditional media includes oil paint, watercolor, gouache, egg tempera, etc. The new digital media also includes several mediums. Here are six basic categories:
Original Digital Works Of Art
Images conceived and created entirely on a computer that exist only as digital files until printed.
Original Digital Photographs
Images taken with a camera or smart phone often applying filters from apps are used for special effects and printed directly from the original digital file.
Digital Reproductions/Copies Of Original Works Of Art
Images of existing paintings, photographs, watercolors, screen prints, etc. are photographed or scanned, uploaded into a computer, and printed to look close to the originals.
Digitally Modified Photographs Or Images
Images of existing paintings, photographs, watercolors, screen prints, etc. are uploaded or scanned into a computer, then manipulated, enhanced and reworked by digital processes (such as Photoshop or Painter) then printed. The prints can then be hand-embellished with paint, made into a collage, etc. Referred to as mixed media, these sometimes closely resemble works of art in traditional media.
Digital Painting Used By Artist Richard Neuman
Each painting begins as a digital photo I have taken on one of my many adventures. Once uploaded to my graphic computer I make a series of alterations, such as, removing wires, correcting distortions, fine tuning focus, exposure correction, etc, using Photoshop Elements. Next the image is refined using a special software filter followed by the "hands guided painting" in Dynamic Auto Painter. If required, the painting goes back to Photoshop for a little tweaking so it meets my standards.
MY ARTISTIC EVOLUTION
I ended my corporate design career in 1986. It was enjoyable and profitable but it was time to focus my talents on what I deemed important. Always growing and adapting has resulted in the following styles.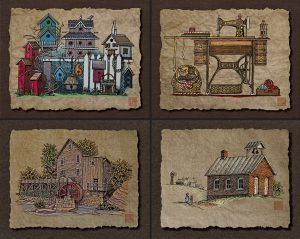 Nostalgic Art Prints
Rural America using Chinese brushes, inks and watercolors on rice paper to produce quality nostalgic images such as barns, buggies, churches, covered bridges, lighthouses, sewing machines, etc. Though only about 5×7 inches you will be amazed at the detail in each painting! Presently all of the over 200 originals have been retained by the artist. Beginning in 2019 interested parties can contact Richard for purchase information.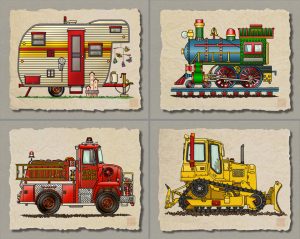 Whimsical Art Prints
You will find in this selection… just fun and colorful images including trains, construction equipment, campers, banana animals, and the unbelievably creative 'banana dot' images. This series spanned the time I began switching from Chinese brushes and inks to drawing with a stylus on a computer. I have retained all of the originals, however, some are on rice paper, others on illustration board and as digital files.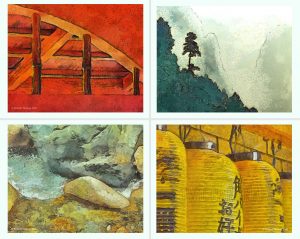 Painterly Photo Art Prints
This selection contains very unique and beautiful European city scenes, rugged Australian seascapes, touching views of Asian culture along with glimpses of the American Amish lifestyle. These are just a few offerings in this ever-growing, popular and eclectic art collection. To enhance your viewing and selecting experience, Richard has recently begun curating his paintings into themed groups of nine. Architectural Abstracts In Reds, Canyon River In Earth Tones, Abstract Art Mostly Yellow, Bicycles, etc. Recent advances in technology now make it possible to sell my artwork as digital files.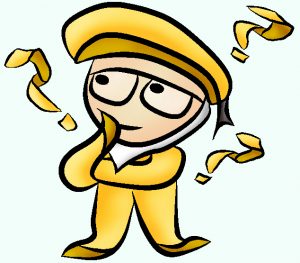 WHY ARE DOWNLOADS OF DIGITAL ART
BECOMING VERY POPULAR?
Never wait for your items to arrive in the mail.
$0.00 SHIPPING COST
No prints or frames will be shipped to you.
PRINT EXACTLY WHAT YOU NEED
Print Sizes
You receive one JPEG file for these standard sizes:
4×6, 5×7, 8×10, 11×14 and 16×20 inch.
Print On
Canvas, photo and archival watercolor paper, metal, wood, cloth, stickers.
Display In
Ready made, custom and digital picture frames,
wrapped canvas, mounted on boards and as screen savers.
PRINT ANYWHERE
Keep Files
Use your home or office printer.
Take Files To
A local print shop like Target, Costco or Staples.
Upload Files To
An online print shop like Shutterfly.com or Gicleetoday.com.
THANK YOU FOR VISITING
About US Two Bananas Abstract Art Downloads For Home Office Decor.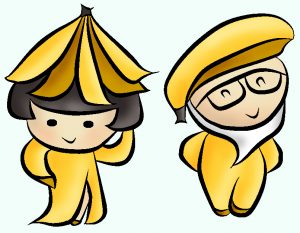 THANK YOU FOR VISITING
About Art Two Bananas Abstract Art Downloads For Home Office Decor